The Higg Factory Environment Module (FEM) 4.0 tool has been officially launched, marking an important industry milestone in the field of sustainable development reporting, aimed at meeting urgent environmental issues and industry standards. It is the most applicable and leading environmental performance evaluation in the consumer goods industry.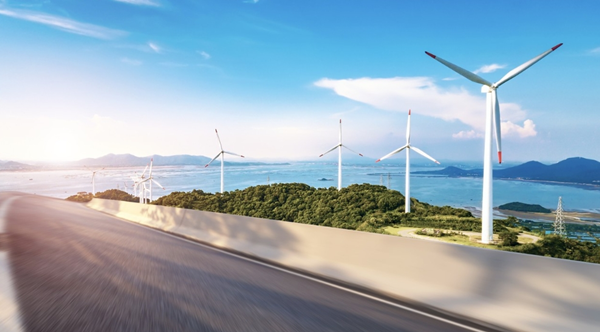 The timeliness of Higg FEM 4.0 remains consistent with the past, as shown in the following figure.
The self-assessment and validation of Higg FEM 4.0 will begin on January 1, 2024. However, as the environmental performance procedures, reports, and records related to the system are based on the year 2023, in order to smoothly transition, the factory should inspect the preparation work according to Higg FEM 4.0 during the remaining time of 2023 to better adapt to the new version and avoid unpredictable issues.
Compared to the previous version, the main advantages of Higg FEM 4.0 are reflected in the following aspects:
1. Enable more accurate reporting
In addition to providing improved and streamlined availability, Higg FEM 4.0 also provides better data quality. It adopts a new anomaly detector to label inconsistencies, providing more accurate reporting, and ultimately achieving a more accurate environmental assessment of the industry.
2. Broader coverage of key environmental issues
The tool also conducts more in-depth research on key environmental issues such as groundwater and soil pollution, to help the industry improve key issues globally.
3. New tools align with key global standards
Including the GHG Protocol, SBTi, and ZDHC zero emission roadmap to promote emission reduction and reduce duplicate reporting.
In addition, Higg FEM 4.0 includes targeted issues that are more relevant to factory processes and eliminates irrelevant issues.
The comparison of the quantity of each module can be seen in the table below.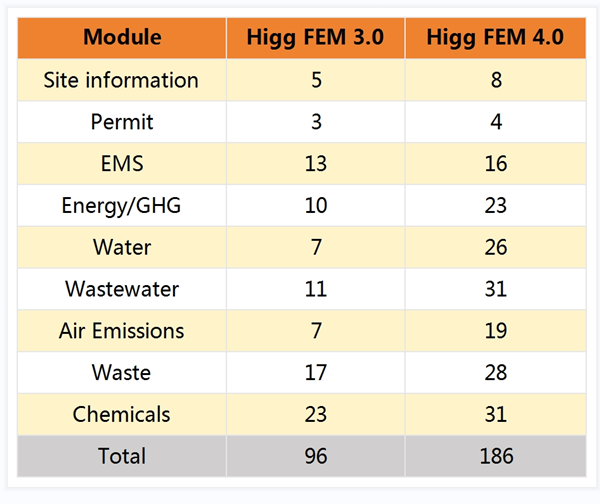 In addition, let's take a look at the specific updated content of each module organized by the editor.
Factory Site Information/License
In the new version, factories must first select the correct factory type before selecting the industry type. In addition, if the factory is unable to provide a valid business license orenvironmental permit (without appropriate reasons), all modules will receive a score of 0.
Environmental permits include but are not limited to water intake permits, pollution discharge permits, chemical (easily toxic, easily toxic) purchase permits, hazardous waste transfer permits, environmental impact assessments, environmental impact assessment approvals, and acceptance.
Frequently asked questions and answers about factory site information/licenses can be found in our previous article:
Higg FEM 4.0 | Venue Information and License FAQ
Environmental Management System (EMS)
The newly added issues in this chapter mainly include the requirements of environmental management policies signed by the top management, post environmental awarenesstraining assessments, and more environmental issues such as preventing soil and groundwater pollution.
Energy/GHG
The newly added issues in this chapter mainly include: requiring separate reporting of on-site fuel and vehicle fuel consumption, and encouraging reporting of energy usage based on different factory types; Report the greenhouse gas emission coefficient of the purchased energy, and also understand the situation regarding PPA (Power Purchase Agreement) purchase agreements, carbon credits, etc; Set scientific carbon targets (SBTi); If the factory uses coal, it is also required to gradually phase out coal and use renewable energy to replace fossil fuels.
Water
The newly added questions in this chapter mainly include: classifying and reporting on the use of blue water and gray water; If there is a situation where groundwater is used, itis necessary to understand the local/national legal restrictions on groundwater extraction; Identify and track the process of using water for leaks.
Wastewater
In this chapter, enterprises can only enter the next level if they meet the requirements of the previous level. In terms of wastewater and sludge, its content is more relevant to the ZDHC wastewater and sludge guidelines, and issues related to biological treatment (BOD5) have been added for wastewater monitoring. If there are sewage treatment facilities within the enterprise, the process of wastewater testing will be fully implemented from entering the sewage treatment station to the final discharge.
Air Emissions
This chapter has made adjustments to the logical settings of the content to adapt to different levels of enterprises on the value chain. Mainly added requirements related to the list of exhaust emission sources, air emission compliance, refrigerant management, and preventive maintenance, as well as issues related to monitoring or reporting based onindustry guidelines for atmospheric emissions (such as the ZDHC exhaust gas guidelines).
Waste
This chapter provides a selection of preferred treatment methods based on the type and disposal method of waste, and adds requirements for post training evaluation. In the issue of waste level 1, in addition to meeting all first-level related issues, enterprises must also obtain relevant license information such as hazardous waste disposal companies in order to unlock the next level of issues.
Chemicals
This chapter has added many requirements for ZDHC chemical management and further specified the requirements for the chemical management team. If the enterprise is related to the production of artificial cellulose fibers (MMCF), corresponding requirements will also appear in the chapter.
ASCP Services (VB ID: 149765) is a professional Higg validation organization and has been approved as a SAC Higg FEM Chemical Specialist Verifier. Our chemical validation experts and validators can verify the entire content of Higg FEM, helping you solve supplychain problems.