The Social and Labor Integration Program (SLCP) is implementing the Integration Assessment Framework (CAF) to reduce audit duplication and free up resources to improve working conditions. Factories can share their validation data with multiple business partners, including brands and standards.
The Sustainable Clothing Alliance (SAC) has adopted SLCP's integrated evaluation framework as the pillar of Worldly (Higg FSLM). Worldly (Higg FSLM) is one of the recognizedhosts (AH), providing additional data analysis and sharing services for users such as brands, standard holders, and manufacturers. You can use it to start or complete the SLCP evaluation process and share validated data. When you complete (v) FSLM, you have effectively completed the SLCP evaluation process.
Due to numerous stakeholders requesting clarification on the differences between SLCPand FSLM, SLCP, SAC, and Worldly collaborated to develop a guidance document to help explain this. The editor has organized the main content for better understanding. The specific content can be seen in the following figure.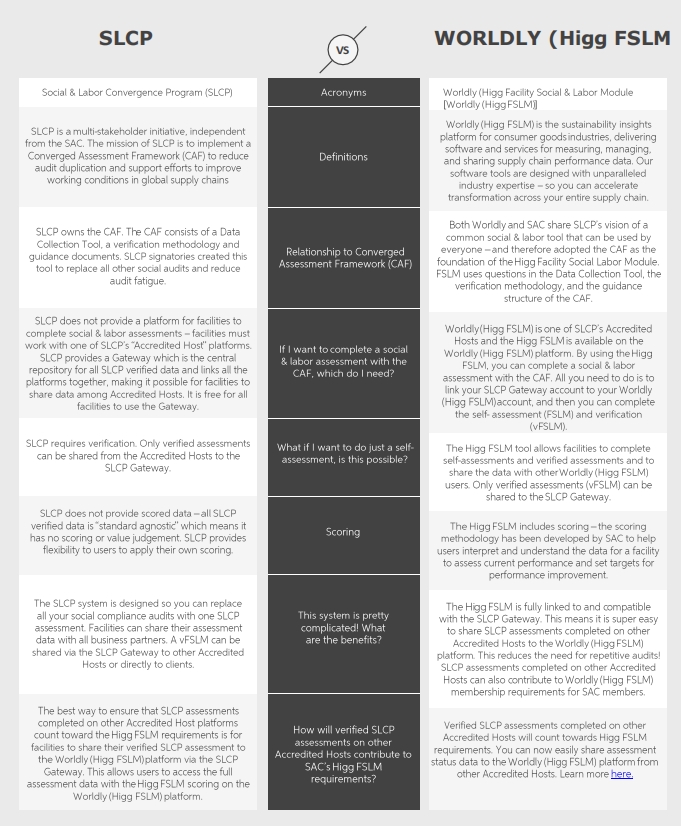 ASCP Services (VB ID: 698452), as a validation agency approved by SLCP, can help buyers and manufacturers better utilize SLCP's self-assessment tool, ultimately eliminating factory inspection fatigue.